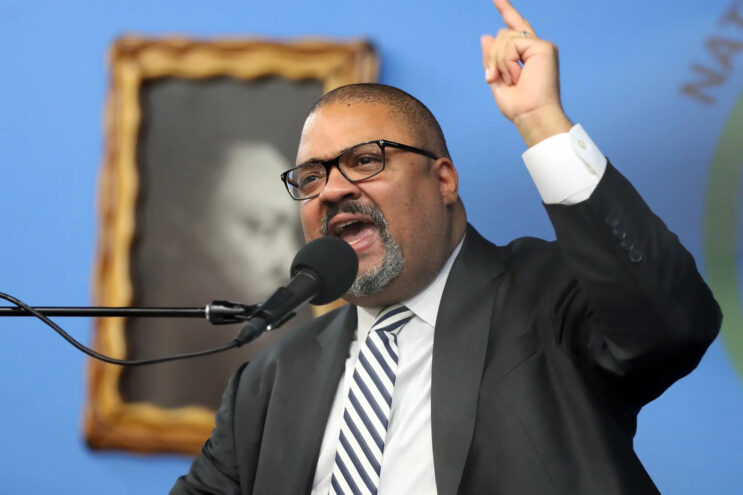 Jeffries: Soros D.A. Bragg Has 'Exemplary Record' as Prosecutor
May 17, 2023
Tuesday on MSNBC's The ReidOut, House Minority Leader Rep. Hakeem Jeffries (D-NY) claimed comically that George Soros-backed Manhattan District Attorney Alvin Bragg has "an extraordinary track record in law enforcement" and an "exemplary record" as a prosecutor.
Race-mongering propagandist host Joy Reid asked, "I do have to ask about one more New Yorker, Alvin Bragg, who has become a focus for Republicans…what do you make of this constant second-guessing of his decisions on who to prosecute and who not to prosecute, when it comes to both the man who strangled Jordan Neely — or choked Jordan Neely, and also, obviously, Donald Trump?"
Jeffries answered, "Well, the extreme MAGA Republicans have clearly been directed to go after Alvin Bragg, because they're just bending the knee to the insurrectionist-in-chief, who has ordered them, apparently, to try to demonize Alvin Bragg, because he doesn't want to face the music. But I think Alvin Bragg is a good and decent man. He's got an extraordinary track record in law enforcement, former federal prosecutor, exemplary record. And I believe he's going to continue to follow the facts, apply the law, be guided by the Constitution, and present the information to the jury, present the information to the American people. And then we can all make our own decisions about the way forward. But no one in America is above the law. That includes the former president."
To be more precise: no one is above the law except Jeffries' fellow Democrats. the Biden crime family, corrupt liar Hillary Clinton, the domestic terror groups Antifa and Black Lives Matter — the count of leftists who are clearly above the law is endless.