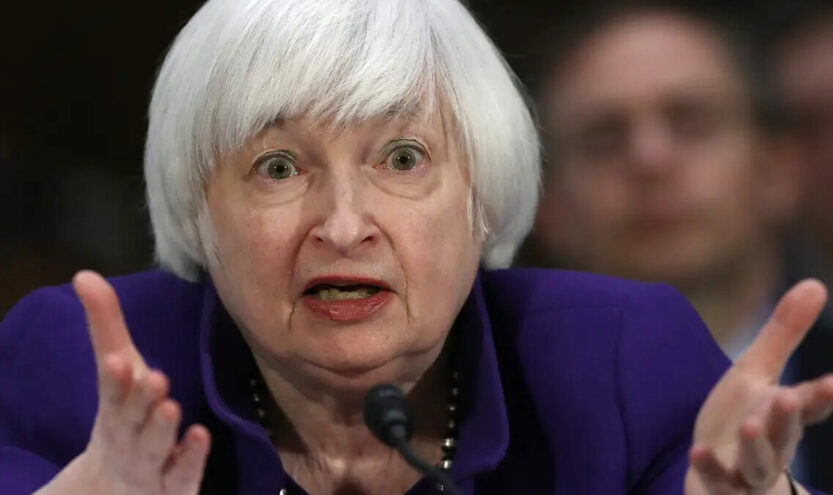 Yellen: People's View of Economy Has 'Disconnect' with How Economy is Really Doing
September 20, 2023
Tuesday on MSNBC's Morning Joe, Treasury Secretary Janet Yellen stated that there is "a disconnect" between how the economy's doing and how people feel it's doing.
Asked why the American people are so pessimistic about the economy if it's doing as well as the Biden administration claims it is, the clueless propagandist Yellen replied, "I agree with you that there's a disconnect, and I don't have a simple and convincing answer. But Americans have been through a lot. The pandemic really took a toll on American families, on children, on households. We are enjoying a remarkable recovery, but also, with high inflation, much of it reflecting supply bottlenecks that developed during the pandemic, and then with Russia's brutal attack on Ukraine, we saw a surge in gas prices, in food prices. Americans have been reeling from high inflation. They do realize in polls that it's coming down."
Except that it's not, as any American who goes to the grocery store or gas station can attest.
"And Americans' financial situation actually improved during the pandemic," she claimed.
Except for the countless Americans who lost their jobs or businesses thanks to the tyrannical mandates of totalitarian Democrat leaders.
"I think it's going to take some time. We've had a trifecta of legislation that President Biden and Congress have passed that we're investing in America in ways we haven't for decades," she concluded.
The Biden administration isn't investing in America, but in China, and Americans are feeling the effects.