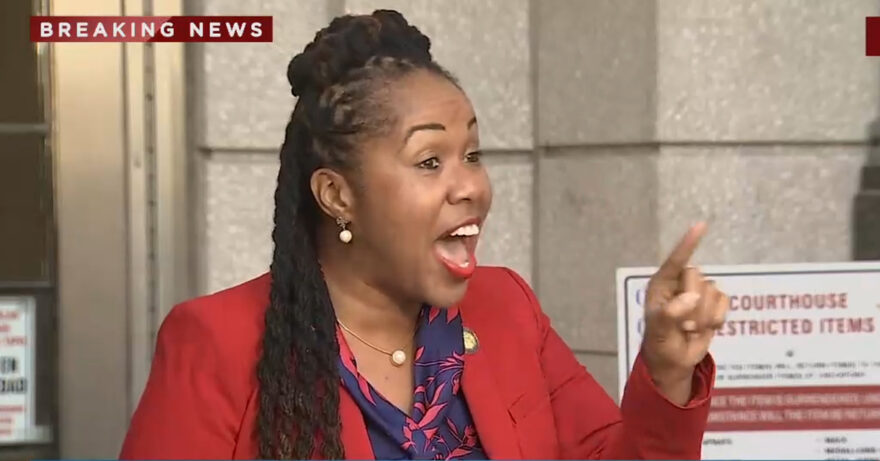 Worrell Angry That 'Evil' 'Dictator' DeSantis Booted Her From Office
August 10, 2023
At a press conference on Wednesday morning, Monique Worrell lashed out after Florida Republican Governor Ron DeSantis suspended her from office as state attorney for the Ninth Judicial Circuit for dereliction of duty and incompetence.
DeSantis said that Worrell, who was backed by a group tied to Democrat billionaire George Soros, has allowed murderers, other violent offenders, and dangerous drug traffickers to receive extremely reduced sentences and escape the full consequences of their criminal conduct.
The policies and practices mentioned in the executive order that led to her suspension include avoiding minimum mandatory sentences for gun crimes, avoiding minimum mandatory sentences for drug trafficking offenses, allowing juvenile offenders to avoid serious charges and incarceration altogether, avoiding valid and applicable sentencing enhancements, limiting charges for child pornography, and seeking withhold of adjudication in situations not permitted under Florida law.
Worrell said following her suspension that her office did "things unconventionally" and claimed that DeSantis was a "dictator" who has implemented "tyranny" and has "single-handedly destroyed democracy in the state of Florida."
Worrell said that while her legal team is prepared to fight her suspension through the legal system but did not believe that she would be successful because "the courts have been assembled by the governor, the legislature has a super majority in favor of the governor."
"Along with me, two of my deputy chief assistants have been fired," she added. "This should not happen in a democracy."
You know what else shouldn't happen in a democracy? Pro-crime prosecutors bought by far-Left money to subvert American law and order.