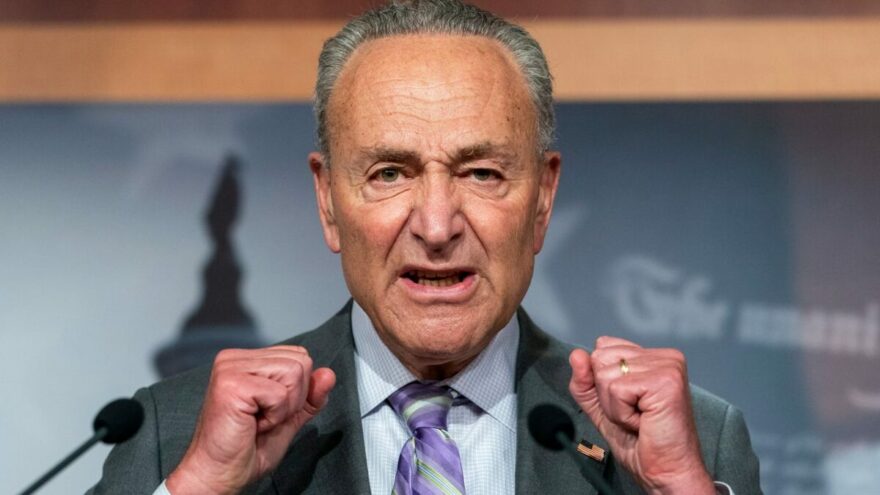 Schumer on Trump as House Speaker: 'No Thanks, We're Good'
October 6, 2023
Sen. Majority Leader Chuck Schumer( D-NY) snapped back at Rep. Marjorie Taylor Greene (R-GA) online Thursday afternoon as calls for former President Trump to become the next speaker of the House echoed among some GOP lawmakers.
Greene originally posted, "If Trump becomes Speaker of the House, the House chamber will be like a Trump rally everyday!!" She added, "It would be the House of MAGA!!!"
"No thanks, we're good," Schumer said on X (formerly Twitter) in response to the congresswoman. "We've seen a Trump rally at the Capitol already."
This was a dig at Trump, who has been falsely accused as the main perpetrator of the Capitol chaos on Jan. 6, 2021.
Republican lawmakers floated the former president as the next speaker just hours after Rep. Kevin McCarthy (R-CA) was ousted Tuesday. Rep. Matt Gaetz (R-FL) introduced the motion to vacate Monday night over McCarthy's purported failure to uphold promises he made when he was voted in after 15 rounds of votes that lasted days in January.
Rep. Troy Nehls (R-TX) said in a statement Tuesday afternoon that his first order of business when the House reconvenes "will be to nominate Donald J. Trump for Speaker of the U.S. House of Representatives." Nehls added, "President Trump, the greatest President of my lifetime, has a proven record of putting America First and will make the House great again."