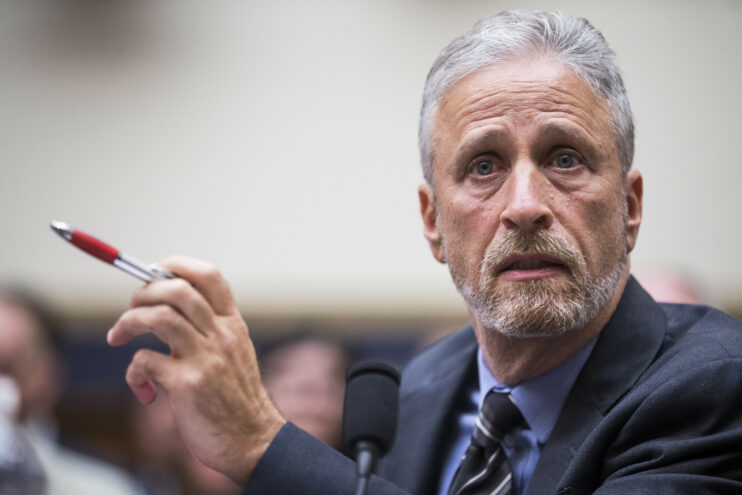 RFK Jr. Calls Out Comedians Colbert, Stewart for Pushing COVID Vax, Shaming Dissenters
June 30, 2023
On a recent episode of The Joe Rogan Experience podcast, presidential candidate Robert F. Kennedy, Jr. (D) called out corporate late night comedians, including Stephen Colbert and Jon Stewart, over their cheerleading for the COVID-19 vaccine and their efforts to shut down any dissenting opinions.
When the conversation turned to how network comedians used their massive platforms and celebrity status to aggressively push the vaccine and to shame and stigmatize dissenters, Kennedy said, "You said a lot of the comedians were skeptical but what I saw was the opposite. I saw the comedians that should have been questioning everything were sort of canceling people who asked questions, including all the ones — you know, Jon Stewart and Stephen Colbert. I thought they stopped being funny because comedians are funny when they're ridiculing authority and they all had to stop doing that."
""They had to destroy ivermectin and hydroxychloroquine and discredit it and they had to tell everybody it's not effective, because if they had acknowledged that it's effective in anybody, the whole $200 billion vaccine enterprise would have collapsed," Kennedy added.
CBS' The Late Show host Stephen Colbert was late-night comedy's biggest vaccine promoter, even performing a dance number called "The Vax-Scene" to gin up enthusiasm for the jab. He also did a segment devoted to ivermectin in which he misleadingly called the drug a "horse de-wormer," even though it is an FDA-approved antiparasitic treatment that has been used in humans for decades.
Stewart also pushed the vaccine while trying to silence dissenters. In 2021, the former Daily Show host made fun of NFL star Aaron Rodgers' decision to forgo the vaccine, saying he'd acquired natural immunity after recovering from COVID-19. "How the fuck does a quarterback not understand the concept of protection? Prevention and protection!" Stewart said during a stand-up routine at a Stand Up for Heroes charity event.
Instead of speaking truth to power, today's comedians are shills for totalitarian regimes.