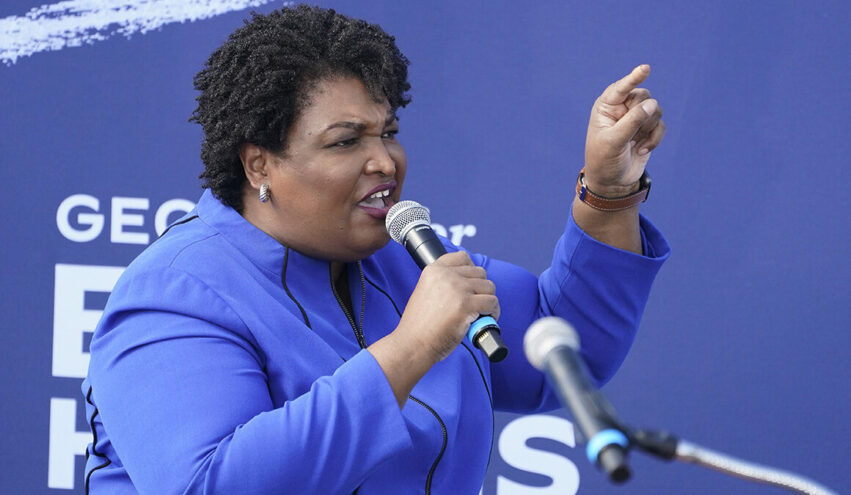 Abrams Campaign Wasted Money on 'Careless' Expenditures
December 21, 2022
Axios reported Monday that the campaign for Georgia's failed Democrat gubernatorial nominee, Stacey Abrams, wasted funds on frivolous expenditures, including a "largely neglected" rental home that was supposed to be used as a "hype house" for TikTok video production.
Abrams' campaign remains over $1 million in debt after bringing in more than $100 million during her failed effort to unseat Gov. Brian Kemp (R-GA). A subsequent report on Tuesday from the Atlanta Journal-Constitution revealed that the campaign sank some of its funds into puzzling and wasteful endeavors:
Several staffers said the campaign rented a home near Piedmont Park to be a "hype house" for TikTok videos that wound up largely neglected. Some aides commandeered the vacant five-bedroom craftsman-style house, now available to rent at $12,500 a month, as a makeshift office.

A pop-up shop and "swag truck" were assigned to dispense merchandise, such as T-shirts and hoodies, to win over young voters. But staffers grumbled that there was no apparent strategy behind the giveaways, which they said seemed careless and costly.

Others vented about excessive spending on polls that were disregarded and consultants with confusing or conflicting roles within the sprawling operation.
Axios's Emma Hurt noted that "money became so tight that most of the 180 full-time staffers were given an abrupt paycheck cutoff date — just a week after the November election."
"People have told me they have no idea how they're going to pay their rent in January," an ex-staffer said. "It was more than unfortunate. It was messed up."