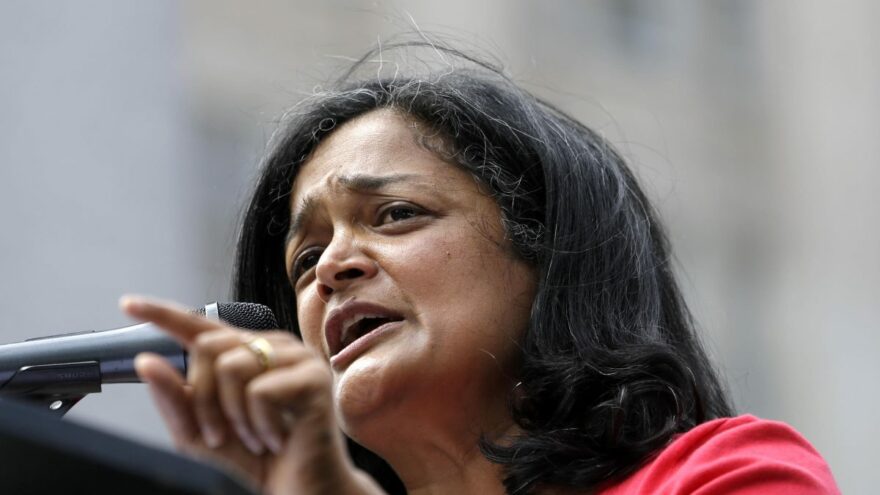 Rep. Jayapal: We Don't 'Have to Reduce' High Gas Prices
November 12, 2021
Thursday on MSNBC's MTP Daily, radical Rep. Pramila Jayapal responded evasively and illogically to a question on how to address soaring gas prices by stating that "It isn't really that you have to reduce the gas price, what you have to do is reduce the costs for families."
Asked what "the administration or you in Congress should attempt to do to alleviate the gas price pain temporarily," Jayapal replied, "I know that the administration is looking at all the options on the table. But again, I want to say that it isn't — the gas price is an indication for families of other things that they are feeling. It isn't really that you have to reduce the gas price, what you have to do is reduce the costs for families so that they can manage."
And the way to reduce one major cost for families is by REDUCING THE GAS PRICE. But Jayapal wants to obscure the fact that she and the current administration are intentionally trying to destroy the fossil fuel industry to pave the way for their Green New Deal utopia.
"That's what I'm saying with Build Back Better," she continued to blather, referring to the administration's silly globalist slogan. "If we lower costs, that's what a family is looking at. That's what my families are saying, is, look, the gas is one thing, but if I can get my child care paid for, heck, I'm in. I'm good for that. So, that's — I think that's how we should be looking at it."
This is all absolute rhetorical b.s. Families won't be "good" for high gas prices just because they can get their child care covered. Families don't want to pay high gas prices, period — especially high prices that were forced on them by a Democrat administration that shuts down pipelines and increases our dependency on foreign oil.