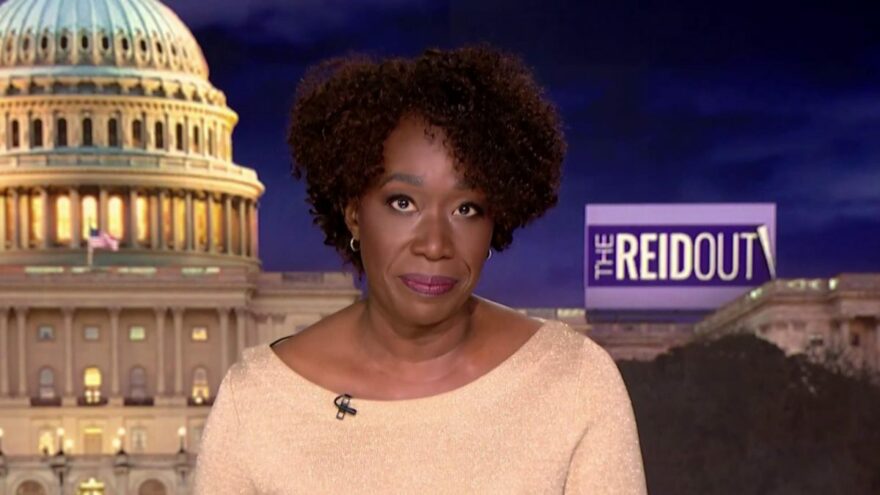 Reid Defends Activists Who Harassed Sinema in Bathroom
October 6, 2021
Monday on MSNBC's The ReidOut, racist propagandist host Joy Reid responded to Sen. Kyrsten Sinema's (D-AZ) denunciation of the protesters who followed her into a bathroom over the weekend, stating that Sinema "didn't think vitriol and raising the temperature were bad things" when she posted a picture of herself wearing a ring that said, "F*ck off."
"Arizona Democrats who mobilized and canvassed for her because they thought she would be an advocate now feel betrayed, which prompted some activists to literally follow her into an Arizona State University bathroom and demand that she do something about immigration reform and the Build Back Better agenda," Reid said.
Fact check: Build Back Better is a clunky slogan and the agenda it represents is globalist and totalitarian. Just sayin'.
Reid smugly continued, "Sen. Sinema responded to that, saying, 'It is the duty of elected leaders to avoid fostering an environment in which honestly-held policy disagreements serve as the basis for vitriol — raising the temperature in political rhetoric and creating a permission structure for unacceptable behavior.' Weird that she didn't think vitriol and raising the temperature were bad things when she posted this picture of herself on Instagram wearing a ring that said 'F*ck off.'"
What's "weird" is that Reid is glossing over the obvious difference between the two: wearing a ring with a verbally crude message is not remotely equivalent to physically intimidating and verbally harassing people in the privacy of a bathroom. Reid knows this but supports such political intimidation, because that is the leftist way.