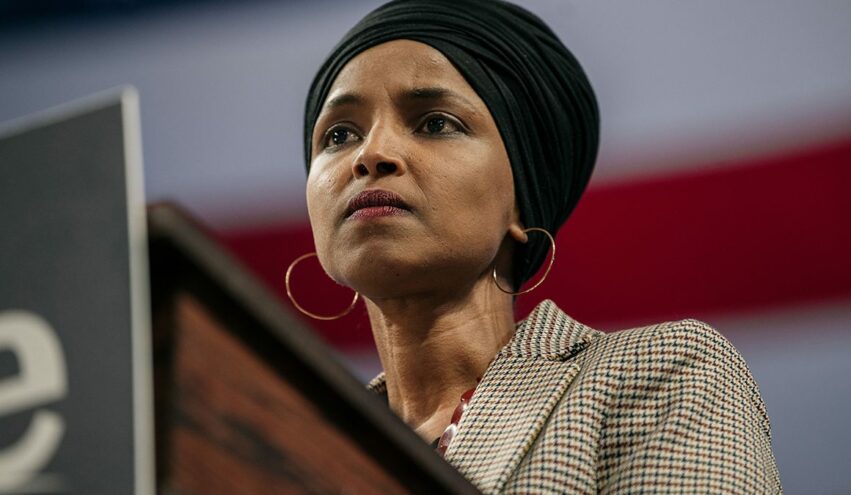 Omar Rages at Fellow Democrat Leaders For Supporting Israel
October 23, 2023
Muslim antisemite and immigration fraud enthusiast Rep. Ilhan Omar (D-MN) came unhinged Friday during a press conference held outside the U.S. Capitol, raging at Democrat leadership over their support for Israel amid the war with Hamas.
"How is it that we have a president who is talking about releasing hostages, who is talking about getting American citizens out of Israel, but could not get himself to say, I want to save and work to save the hundreds, thousands of Americans stuck in Gaza. What is wrong with you?" Omar said.
"How is this possible? Wait, so [are] certain Americans' lives [more] important than another? Is the American that is living in Gaza less important than the one living in Israel? How is it that you're telling American citizens to go to the south of Gaza, but you can't tell Netanyahu not to bomb the south because there are Americans there?" she added.
"And not a single condemnation comes from our caucus leadership or any member of Congress," she continued to rant. "How is it — how is it that we are serving in a body, serving in a body where there are members who condemn us for asking for a peace, for cease fire, the most simplest thing?"
To echo Omar, how is it that she can't bring herself to condemn the savage terrorism waged against Israel by the Palestinian leadership in Gaza? Could it be because she would like to see Israel and Jews wiped from the Middle East map by any means necessary? Food for thought.