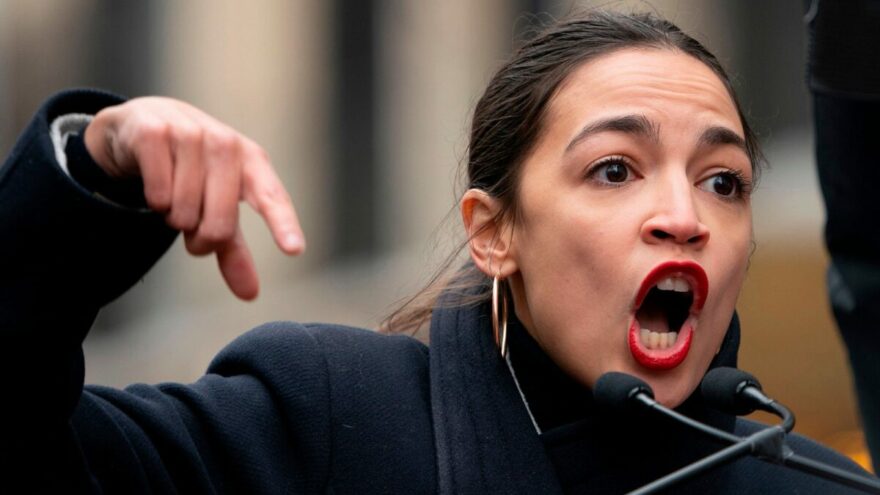 Ocasio-Cortez Heckled at Own Town Hall: 'AOC Has Got to Go!'
October 20, 2022
Radical socialist Rep. Alexandria Ocasio-Cortez (AOC) received a taste of her own medicine on Wednesday night as she was heckled by protesters at a local town hall meeting with constituents in Queens, New York.
Unlike a town hall last week in the Bronx, where AOC was heckled by anti-war protesters in a sparsely-attended town hall, the town hall in Queens was full, and the issues were varied. The protesters were there to speak up against AOC and protest crime rates going up in NYC, against the LGBTQ+ community housing, and COVID mandates, among other topics.
The group started to chant "AOC has got to go" while playing bongo drums. She tried to reason with the crowd, to dance to the bongo drums, and even to imitate a local Hispanic accent. A man in the crowd urged others to "give her a chance to explain," saying he wanted to ask why she supported "defund the police." At one point the lights shut off and AOC was escorted out of the room. She returned once the lights were back on and could be heard saying "I'm not allowed to be in a room with the lights turned off."
AOC has used such disruptive tactics herself in the past. In 2019, after taking office, she joined a group of left-wing legislators in a walk across the Capitol to confront then-Senate Majority Leader Mitch McConnell (R-KY). More recently, she was removed by police from a protest over abortion at the Supreme Court — where she pretended to have been handcuffed.