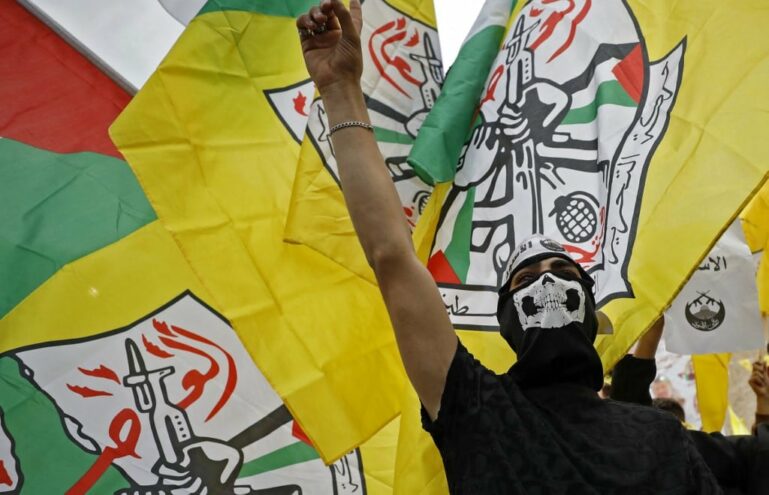 'Moderate' Fatah Declares Unity with Hamas, Praises Massacre
October 17, 2023
In a newly released military statement, the Al-Aqsa Martyrs Brigade — the military wing of Palestinian Authority President Mahmoud Abbas' supposedly "moderate" Fatah movement governing in Judea and Samaria (the West Bank) — declared its alliance with Hamas and its commitment to the ongoing terror campaign against Israel.
In a Monday statement, Fatah articulated its unwavering dedication to liberating "Palestine" and Jerusalem, while asserting its pivotal role in what Hamas has termed Operation Al-Aqsa Flood.
"We were there from the start of the 'Al-Aqsa Flood' operation out of our dedication to the ideal of fighting to liberate Palestine and holy Jerusalem… [The] armed struggle is the only and fastest way to liberate Palestine," the Al-Aqsa Martyrs Brigade stated, adding that "the unity of the rifle, the [struggle] in the field, and the firm stand of our people is the only way to guarantee victory."
The statement also issued a stern warning against those who conspire against the Palestinian people.
"We will have a reckoning with those who will deceive our people and plot against them, even if it takes a long time," the statement reads. "We will protect our people and our struggle and we will not stop except with the liberation of Palestine."
Fatah's Central Committee lauded the terrorists it claimed were confronting "the occupation's crimes and aggression" and "attacking the enemy."