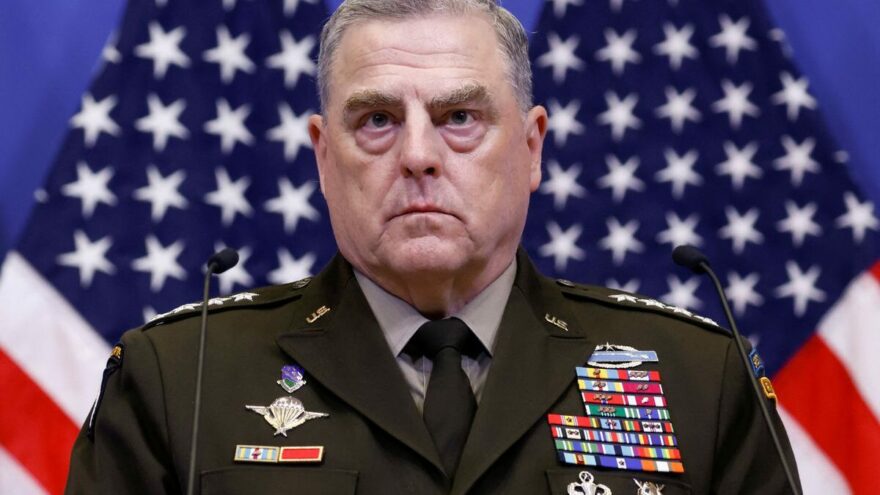 Milley: Major Ukraine Counter Offensive in Beginning Stages
September 8, 2022
Chairman of the Joint Chiefs of Staff Gen. Mark Milley told reporters at Ramstein Air Base, Germany on Thursday that Ukraine has officially launched a major counteroffensive on its 1,500-mile-long front line in a move to repel Russian forces from its borders.
"At the beginning of this month, on or about the first of September, Ukraine launched an offensive in order to seize operational and strategic initiative. That offensive is ongoing," Milley . "That offensive is in its early stages."
"Ukrainians have demonstrated superior tactical proficiency and they've demonstrated a superior will to fight," he added.
The woke general said Ukrainian forces are effectively using arms supplied by the U.S. and allied nations to counter Russian advances – in some cases pushing into Russia's front lines.
Milley, who stood next to woke Secretary of Defense Lloyd Austin following a meeting with leaders from the Ukraine Defense Contact Group, said the U.S. and allied nations renewed their pledge to support Ukraine in its fight to "live free of Russian occupation and live free of Russian violence."
Austin said Ukraine will continue to need assistance in air and coastal defenses along with other critical capabilities. "The United States has stepped up to meet those needs," he said, referring to another $675 million arms package approved for Ukraine Thursday.
The general reiterated the U.S.'s long-term commitment to Ukraine but warned "the war is not over."
It must be tough juggling our commitment to Ukraine's war while also rooting out Trump supporters and white supremacy in our own military.