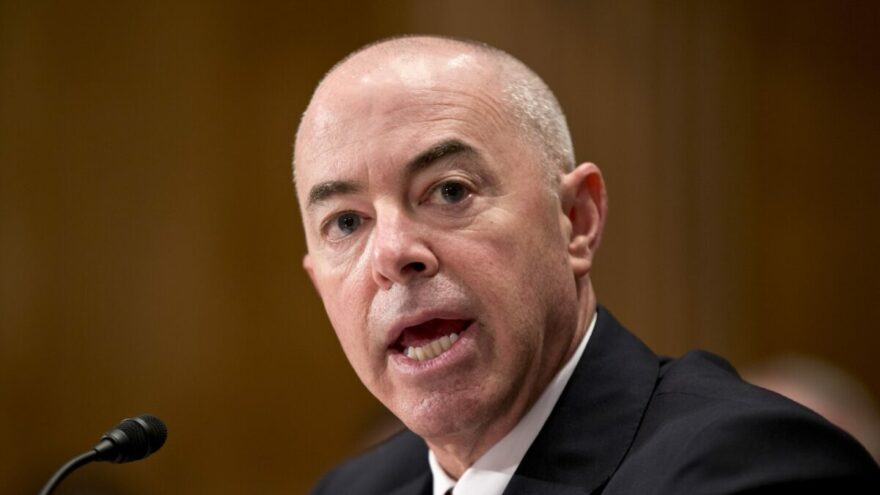 Mayorkas Salutes 'Progress Pride Flag' for Diversity at DHS HQ
June 3, 2022
Department of Homeland Security (DHS) Secretary and open-borders fanatic Alejandro Mayorkas posted a photo Wednesday of his hand-over-heart in a salute to a "Progress Pride Flag" hoisted at DHS headquarters, according to Breitbart News.
Mayorkas tweeted that day, "@DHSgov headquarters, we raised the Pride flag in recognition of the start of Pride Month. The waving flag symbolizes our core value of, and abiding commitment to, diversity, equity, and inclusion. We raised and fly the flag with pride."
"The only time I put my hand on my heart is when I'm saying the Pledge of Allegiance to the American flag," responded Rosemary Jenks, director of government relations for NumbersUSA.
The flag is named the "Progress Pride Flag," because it displays the colors purportedly representing various identity groups in the U.S. that claim victimhood in the name of diversity promoted by the neo-Marxist Democrat Party. It excludes colors representing white heterosexuals. There is also no reference to the United States.
"Diversity is — and always has been — our greatest strength," declared President Biden's May 31 "Proclamation on National Immigrant Heritage Month."
Diversity is not the greatest strength of the United States, responded Jenks, "unless you see people through the lens of race and ethnicity and gender. If you see people for the content of their character then you know the strength of America is all of her people, the constitution, the Founding fathers, sovereignty … [and] civic expectations."