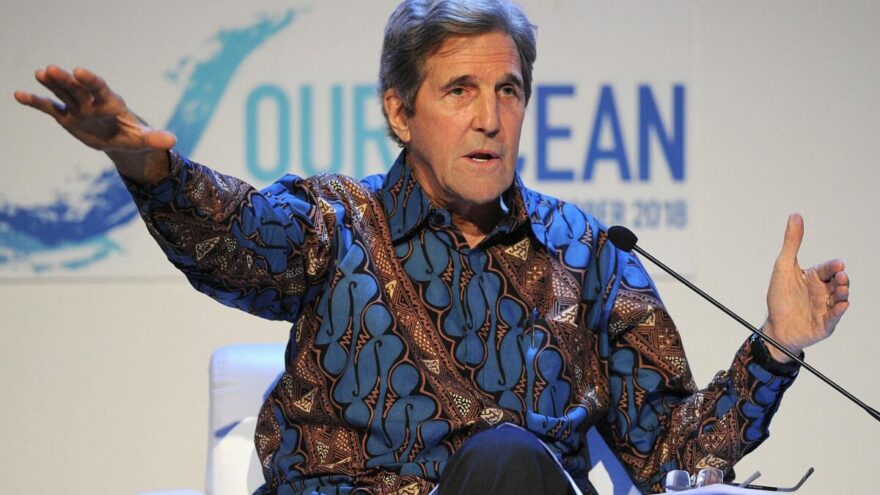 Kerry Flies to China for Another Mtg with World's Biggest Polluter
July 17, 2023
Breitbart News reports that U.S. climate envoy John Kerry touched down in China on Sunday after flying to Beijing aboard a carbon-spewing jet for yet another series of talks with the world's single largest producer of greenhouse gases.
His flight comes just days after Kerry appeared before a congressional hearing and was roundly criticized for constantly jetting around the world trying to lecture other people not to use jets.
The former senator and failed presidential candidate's trip to Beijing follows two other high-profile visits by U.S. officials — first Secretary of State Antony Blinken, then Treasury Secretary Janet Yellen — as part of the White House's desire to smooth relations with the Chinese Communist government ahead of the 2024 presidential election.
AFP reports Kerry will aim to use his time in Beijing to engage with Chinese officials "with respect to increasing implementation and ambition and promoting a successful COP28", the State Department said, referring to the U.N. climate talks in November.
As Breitbart News reported, Kerry is no stranger to long-haul flying in his job as Biden's climate czar. In 2021 alone he took "48 trips lasting more than 60 hours and emitted an estimated 715,886 pounds, or 325 metric tons" since he first took the position in the Biden administration.