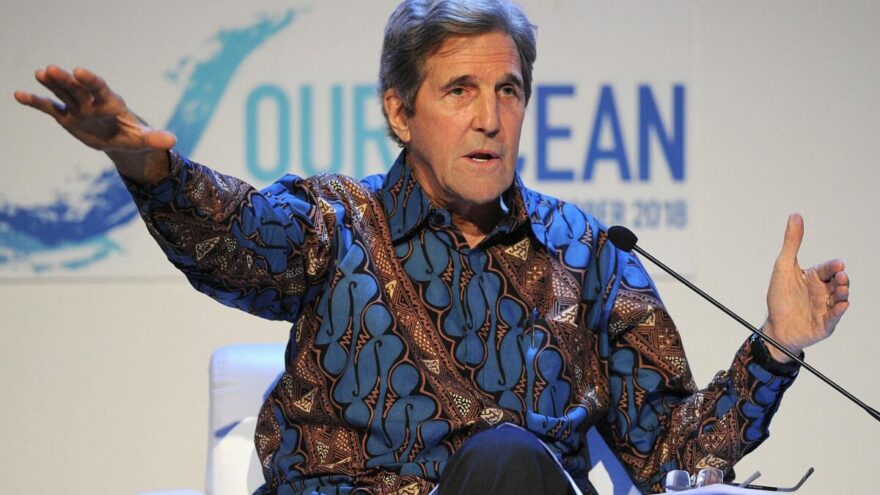 Kerry Slammed For Suggesting We Must 'Bankrupt Every Farmer in America' to Save the Planet
August 1, 2023
U.S. Special Presidential Envoy for Climate (worst governmental title ever) John Kerry was blasted on social media over the weekend by critics who accused him of trying to destroy the agriculture industry in order to achieve "net zero" emissions.
"Agriculture contributes about 33% of all the emissions of the world, depending a little bit on how you count it, but it's anywhere from 26 to 33, and we can't get to net zero, we don't get this job done unless agriculture is front and center as part of the solution," Kerry told a climate change summit in May. "You just can't continue to both warm the planet while also expecting to feed it. It doesn't work. So, we have to reduce emissions from the food system."
That clip was widely shared over the weekend after being posted by the Twitter account Wide Awake Media, which led to a new wave of criticism against globalist elitist Kerry.
Republican Rep. Mary Miller of Illinois called them an "attack on American farmers."
"Nothing to see here," Republican Sen. Ted Cruz tweeted. "Just hypocritical Dems wanting to bankrupt every farmer in America…."
"These people are sick bastards," GOP Rep. Chip Roy of Texas tweeted. "I introduced legislation to defund this clown. But that's just for show unless Republicans as a whole decide to fight instead of laying down while the very freedom they campaign on is under assault."
In May, two dozen Republicans signed a letter in which they called on President Biden and Agriculture Secretary Tom Vilsack to disavow Kerry's comments, calling them a "blatant slap in the face to the hardworking individuals that spend their lives sustainably producing our world's food, fuel, and fiber."