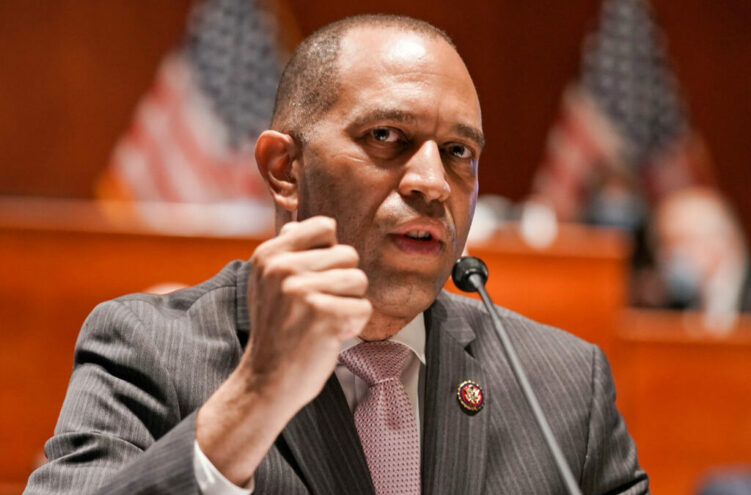 Jeffries to McCarthy: Put Schiff, Swalwell on Intel Committee
January 24, 2023
In a letter shared this weekend by Punchbowl News, House Democrat Leader Hakeem Jeffries (D-NY) formally asked Speaker Kevin McCarthy (R-CA) to "honor past practice" and seat Reps. Adam Schiff (D-CA) and Eric Swalwell (D-CA) on the House Permanent Select Committee on Intelligence.
"It is my understanding that you intend to break with the longstanding House tradition of deference to the minority party Intelligence Committee recommendations and deny seats to Ranking Member Schiff and Representative Swalwell," Jeffries wrote. "The denial of seats to duly elected Members of the House Democratic Caucus runs counter to the serious and sober mission of the Intelligence Committee."
"I urge you to honor past practice of the House of Representatives and our mutual interest in working together for the good of the American people by accepting my recommendation of Adam Schiff to serve as Ranking Member and Eric Swalwell to continue his service as a Member of the Intelligence Committee," Jeffries concluded.
Jeffries' letter comes after McCarthy indicated to reporters at a press conference on January 12 that he intended to strip Schiff and Swalwell of their seats on the Intel Committee, as well as Rep. Ilhan Omar (D-MN) of her seat on the Foreign Affairs Committee.
"Adam Schiff openly lied to the American public," McCarthy told reporters at the press conference, referring to Schiff perpetuating the Trump-Russia collusion theory, which the Justice Department later shut down as false. "He put America for four years through an impeachment that he knew was a lie at the same time we had Ukraine, at the same time we had Afghanistan collapse. Was that the role of the Intel Committee? No."
Swalwell became a target for McCarthy because he was found by the FBI to have ties to a Chinese spy named Fang Fang. "If you got the briefing I got from the FBI, you wouldn't have Swalwell on any committee," McCarthy said at the press conference. "He cannot get a security clearance in the private sector."