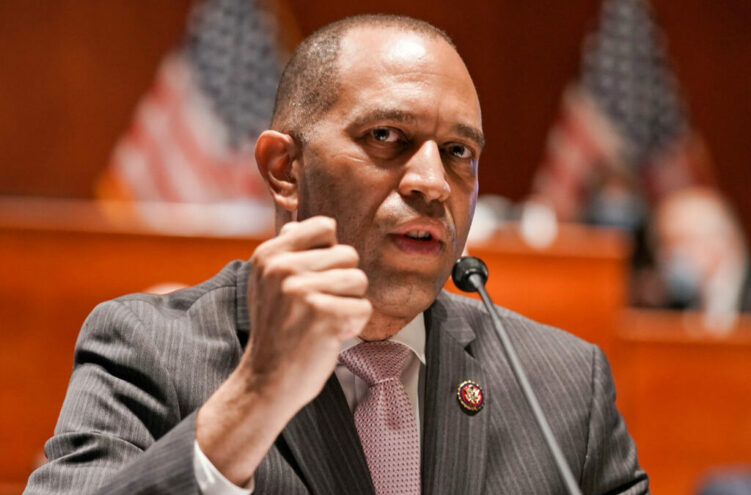 Jeffries: Patriotism 'Inconsistent with Being a House Republican'
May 7, 2021
Thursday on MSNBC's The Beat, Rep. Hakeem Jeffries said Republican Rep. Liz Cheney was likely being removed from her House leadership role because she had said several times she believed former President Donald Trump incited the January 6 riot at the Capitol. To him, that means "being a patriot may be inconsistent with being a House Republican."
"There is a clear distinction between Democrats and Republicans right now," Jeffries said. No argument there. "A moment of clarity for everyone. Democrats are the party of getting things done. Republicans are the party of obstruction. Democrats believe in democracy. Republicans believe in autocracy. Democrats believe in Building Back Better, the American Rescue Plan, The American Job Plan, The American Family Plan and Republicans are all about grievance and xenophobia."
Surely he is joking. Republicans are the party of American exceptionalism, while Democrats are the party of grievance and obstruction — at least while President Trump was in office. Now that they hold all the political power, Democrats are the party of ramming through their agenda of destroying America as we know it.
He went on to call House Republicans "a full-blown cult of personality as it relates to bending the knee to Donald Trump… and that is why they're ousting Liz Cheney… [because] she's not willing to perpetuate the lie that Donald Trump somehow should be the president of the United States of America."
It's always amusing to hear the Party of Obama-worship call the GOP a cult of personality. In fact, Republican politicians are sadly anything but Trump-worshipers. But the truth remains that Trump would be President today except for massive voter fraud by Jeffries' Party.
The hateful liar and demagogue Jeffries went on to assert that there are patriots and traitors, and "being a patriot may be inconsistent with being a House Republican." In fact, Jeffries is correct about the government being divided between patriots and traitors. He just has the Parties reversed.