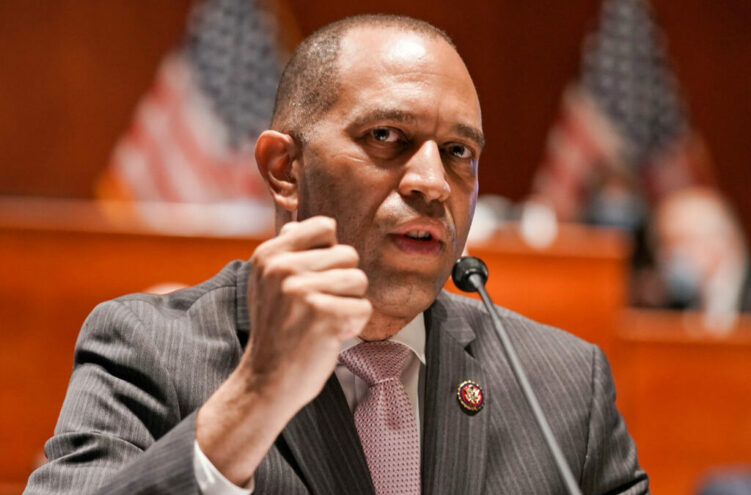 Jeffries: Jan 6 Footage Disclosure is 'Egregious Security Breach'
February 22, 2023
In a dear colleague letter sent on Tuesday, election denier Hakeem Jeffries (D-CA), House minority leader, claimed the disclosure of January 6 footage to Fox News's Tucker Carlson is an "egregious security breach" that demands confirmation of "the precise nature of the video transfer."
House Speaker Kevin McCarthy (R-CA) reportedly gave Carlson roughly 41,000 hours of footage from the January 6, 2021, Capitol riot, on Monday to air on Fox News in the coming weeks.
Jeffries alleged the "transfer of video footage represents an egregious security breach that endangers the hardworking women and men of the United States Capitol Police, who valiantly defended our democracy with their lives at risk on that fateful day."
Jeffries claimed the public disclosure of the cache would represent "yet another example of the grave threat to security" that the "extreme MAGA Republican majority" represent.
Carlson believes there was no good reason to hide the footage from the American people. "[T]here was never any legitimate reason for this footage to remain secret," he told Axios. "If there was ever a question that's in the public's interest to know, it's what actually happened on January 6. By definition, this video will reveal it. It's impossible for me to understand why any honest person would be bothered by that," he explained.
The release of the footage represents a promise kept by McCarthy, who promised last month to release the footage. "I think the public should see what happened on that day," McCarthy said. "I think the American public should actually see what happened instead of a report that's written on a political basis."