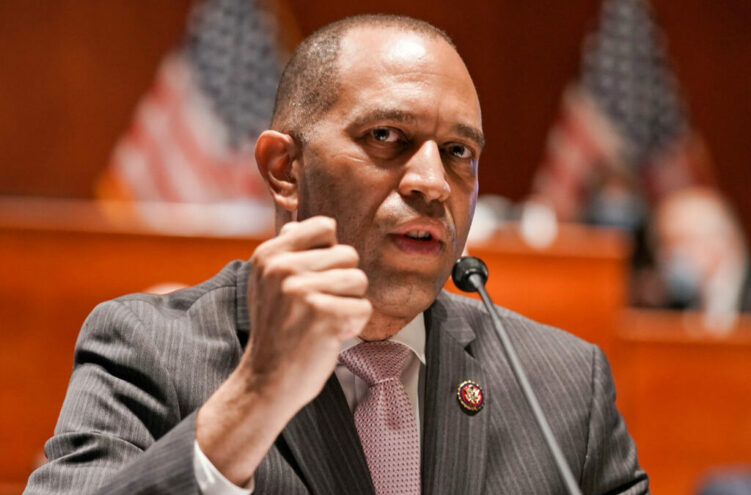 Jeffries: 'Greed Is Driving a Lot of What Is Occurring' Economically
April 4, 2022
Friday on MSNBC's Morning Joe, House Democratic Caucus Chair Rep. Hakeem Jeffries (D-NY) pushed the Democrat excuse that corporate "greed" and Russian President Putin's invasion of Ukraine are largely to blame for the economic disaster being wreaked upon the American public by the Biden administration.
Jeffries said, "Well, it's important to understand that we understand that there are inflationary pressures, particularly related to food prices, increases in gas prices, exacerbated by Putin's unjustified war in Ukraine. It is really Putin's price hike, in terms of gas prices continuing to go in the wrong direction. And we understand that and we're working hard to address it."
No one in America buys this blatant lie that record inflation and gas prices are Putin's fault. But Hakeem and his fellow anti-capitalists have a narrative to sell.
He added, "The Judiciary Committee and the Antitrust Subcommittee, under the leadership of Chairman [Jerry] Nadler and Chairman [David] Cicilline, have begun that process to discuss the price gouging that is occurring, particularly as it relates to food prices in the agricultural markets related to meat. … There are people, big businesses making an extraordinary amount of money. Greed is driving a lot of what is occurring. And that is a story that should be told to the American people to help explain why we find ourselves in the situation that we are in right now."
Producers and corporations are not price "gouging," as Jeffries falsely labels it. They are forced to raise prices thanks to the destructive economic policies of Democrats that result in surging inflation and an insanely high minimum wage standard.
Liar Hakeem Jeffries and his propagandist enablers at MSNBC want you to believe that capitalism itself is the problem, even as they pull out all the stops to crash the system and move to the Great Reset.