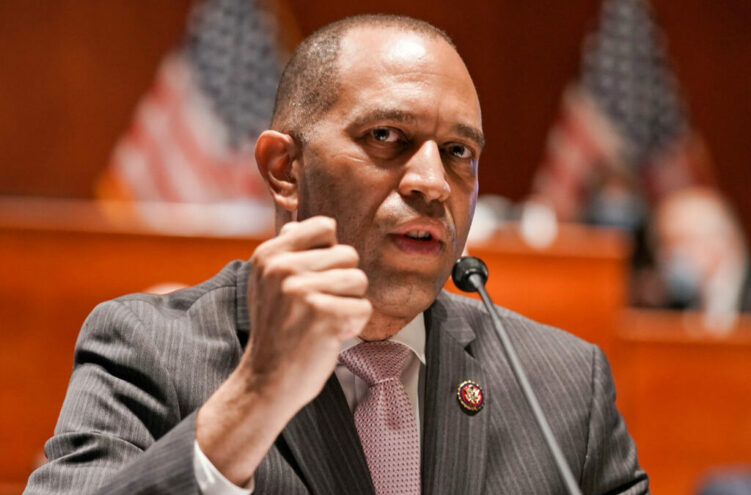 Jeffries Calls Fellow Dem RFK Jr.'s Campaign a 'False Flag Operation'
July 21, 2023
House Minority Leader Hakeem Jeffries (D-NY) called the presidential campaign of fellow Democrat Robert F. Kennedy Jr. a "false flag operation," claiming it was being "run by right-wing political operatives" to hurt the Party, according to Breitbart News.
Jeffries spoke during his weekly press conference on Capitol Hill as the House Weaponization Subcommittee featured Kennedy in a hearing about government pressure to censor content on social media platforms in the past several years.
The House Minority Leader — who has a history of supporting antisemitism — accused Kennedy of bigotry. He added: "Why would you give Robert F. Kennedy Jr. a congressional platform to spew his hatred? Here's the answer: Robert F. Kennedy Jr. is a living, breathing false flag operation. His whole campaign is being run by right-wing political operatives who have one objective: [to] try to take down President Joe Biden."
The term "false flag" refers to a wartime action by an enemy designed to appear as if taken by one's own side.
Kennedy's campaign is being run by former Rep. Dennis Kucinich (D-OH), a far-left-wing Democrat who was notable during his own political career for his opposition to the Iraq War. He was also present at the hearing.
Some of Kennedy's polices are more conservative than those of his party. He wants to seal the southern border, and he is not in favor of gun confiscation. Yet on free speech, Kennedy pointed out on Thursday, his views are consistent with what Democrats  — such as his father, Sen. Robert F. Kennedy (D-NY), and his uncle, President John F. Kennedy — used to believe: that the First Amendment covers all views, even those some find offensive.