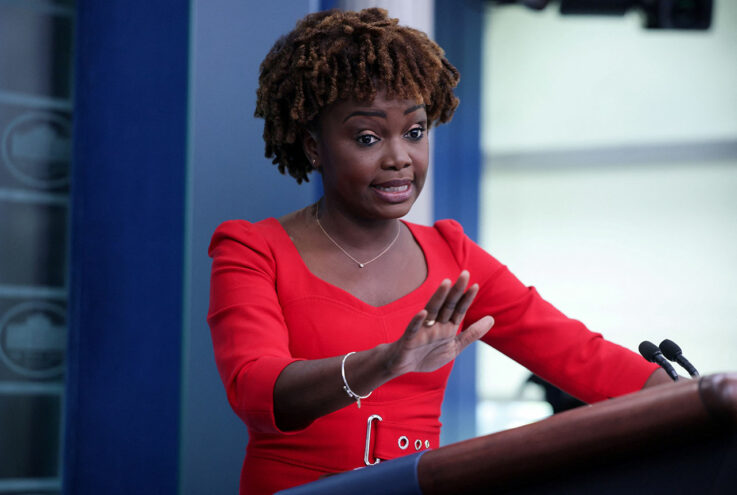 Jean-Pierre : Misinfo About Border Could Aid Smugglers
January 11, 2023
Defending the potential elimination of Title 42 during a recent news conference, White House Press Secretary Karine Jean-Pierre insisted the border is not "open" and that spreading misinformation about the border could aid smugglers who ferry migrants into the U.S., according to the Immigration Reform Law Institute's Matt O'Brien writing at Breitbart News.
"Jean-Pierre didn't explain how frank discussions about the situation at the border might aid criminal entities engaged in human trafficking," O'Brien wrote. "But she seemed to be asserting – absurdly and ridiculously – that alien smugglers are getting their information about the situation at the southern border from Fox News and other outlets willing to discuss the ongoing border crisis."
O'Brien continued:
Of course, anybody with any understanding of immigration issues knows that the U.S./Mexico border is currently controlled by immigration smugglers and the cartels that employ them. And even if that weren't the case, only an incompetent buffoon would believe that transnational criminal organizations are hanging out at their headquarters waiting for Peter Doocy to tell them that the Department of Homeland Security is completely overwhelmed and the border is open. Those facts are patently obvious to anyone who has seen the crowds massing along the banks of the Rio Grande.

The reason Team Biden doesn't want to talk about the border is because it manufactured the current crisis. Claims that the White House is taking border enforcement seriously are farcical. The Biden Administration has deliberately deconstructed America's immigration enforcement and border control mechanisms and it did so in order to attract large numbers of migrants to the U.S.
"The primary boon to the coyotes has been the current administration's complete failure to enforce the provisions of the Immigration and Nationality Act, not any 'misinformation' that smugglers have received from other parties," O'Brien concluded.