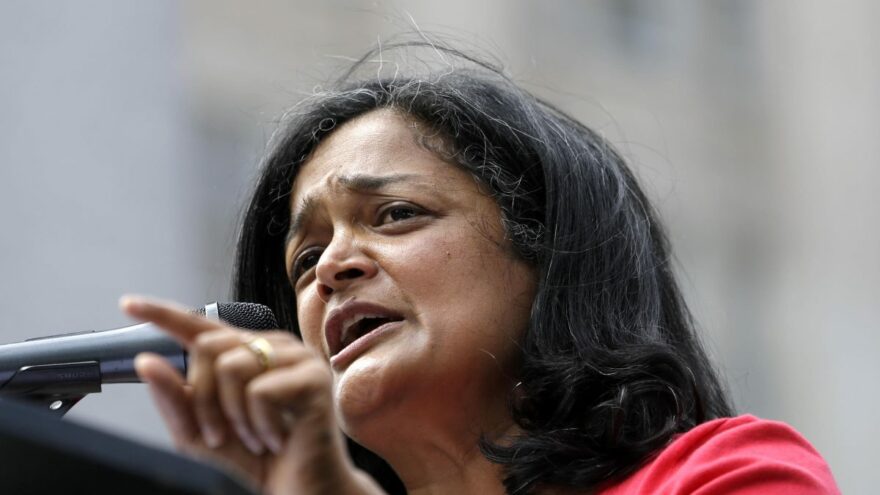 Jayapal: Violent GOP Rhetoric Led to Attack on Author Rushdie
August 12, 2022
Friday on MSNBC's Chris Jansing Reports, Rep. Pramila Jayapal (D-WA) suggested without a shred of evidence that the bizarre attack on author Salman Rushdie at a speaking engagement was inspired by GOP rhetoric, because Republicans "continue to talk about a frame that encourages people to go out and get arms."
Asked how worried she is "right now about the rise in violent political rhetoric," Jayapal responded, "I am very worried about it. And everybody should be worried about it because this has been unleashed and the language we're listening to from the Republicans is terrifying, when they continue to talk about a frame that encourages people to go out and get arms."
It's unclear what she's talking about, since no Republican politician or pundit is using "terrifying" language to tell constituents to "go out and get arms." But Democrats don't let facts get in the way of their fear-mongering and projection.
"And even today, just attacking Salman Rushdie on stage, several politicians, both Republicans and Democrats, it is a huge problem and it is being unleashed by Donald Trump and the way in which Republicans are talking about what's happening in this country."
There are literally no details yet about the attacker who stabbed Rushdie as the author prepared to give a speech in New York, but Jayapal is ludicrously claiming he was inflamed by supposedly violent GOP rhetoric.
What motive would a "MAGA extremist" have to attack Rushdie? In fact, as everyone knows, the author is still under a decades-old Islamic death fatwa for his purportedly blasphemous novel The Satanic Verses. It's infinitely more likely that his attacker is a devout Muslim carrying out the fatwa. But that inconvenient truth doesn't serve Jayapal's purpose in demonizing her political opponents.