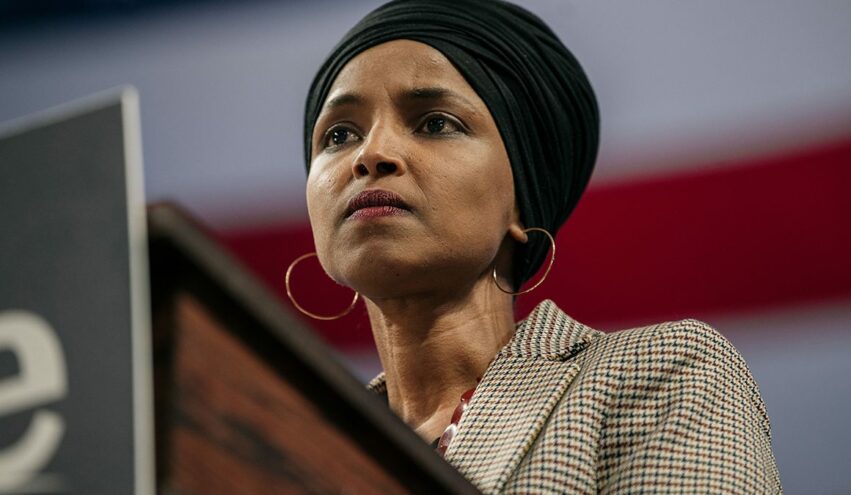 Ilhan Omar Calls Israel Lobby AIPAC a 'Right-Wing' PAC Funded by 'Dark Money'
August 21, 2023
Rep. Ilhan Omar (D-MN) called the American Israel Public Affairs Committee, which calls itself bipartisan, a "right-wing super PAC" and accused it of being funded by "dark money."
The group recently helped facilitate a House Democrat-led trip to Israel spearheaded by Minority Leader Hakeem Jeffries, D-N.Y., and Rep. Steny Hoyer, D-Md.
"THIS IS URGENT," began an ad for Omar's campaign on X, formerly Twitter. "A right-wing Super PAC funded by millions of dollars in Dark Money spending is working around the clock to unseat Ilhan from Congress in 2024."
"AIPAC is recruiting moderate candidates to run against Ilhan and other progressive incumbents who are speaking out against the establishment and will spend MILLIONS on attack ads to silence our movement," the ad continued. "Their attacks will never stop the momentum of this movement, but we need your help to fight back with TV ads of our own. So if you can, please rush a donation to Ilhan's campaign now to allow us to do so."
An AIPAC spokesman called Omar's most recent fundraising ad targeting them "clumsy" and denied that the group did not support progressives.
"We proudly engage in the democratic process — just as our adversaries do — and we will not be deterred by clumsy fundraising ads that falsely attack us," the spokesman said. "In fact, we support scores of pro-Israel progressives who understand that it is entirely consistent with progressive values to support the Jewish state."