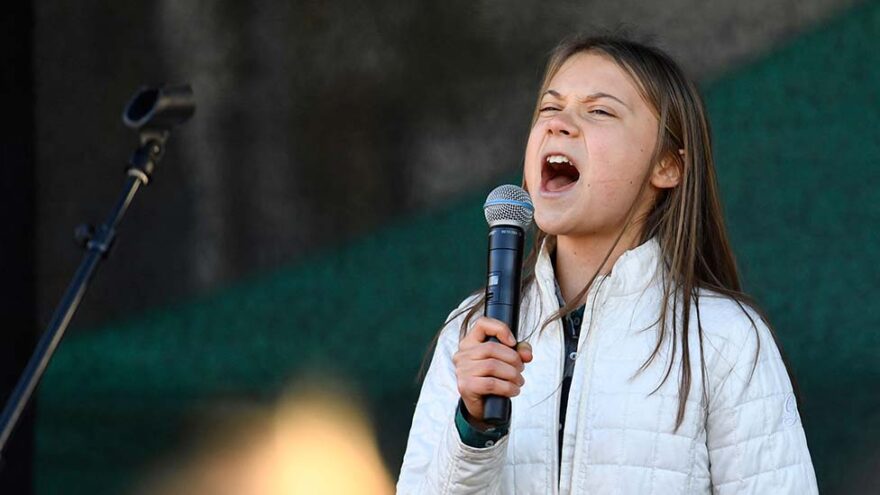 Greta Deletes Pro-Palestinian Post After Blowback Over Antisemitic Dog Whistle
October 20, 2023
Climate activist Greta Thunberg posted, then deleted a pro-Palestinian post on X following some backlash, according to Fox News.
Early Friday morning, the 20-year-old Swedish activist posted a since-deleted photo of herself and three other activists with signs that read, "Free Palestine," "Climate Justice Now," "This Jew Stands With Palestine" and "Stand With Gaza." The photo included a blue octopus that had a frowning face and was sitting on one of the activists' legs.
"Today we strike in solidarity with Palestine and Gaza. The world needs to speak up and call for an immediate ceasefire, justice and freedom for Palestinians and all civilians affected," she wrote in the post.
Moments later, Thunberg deleted it and shared a nearly identical photo — the same four people holding the same four signs — this time with the stuffed animal cut out of the photo.
"It has come to my knowledge that the stuffed animal shown in my earlier post can be interpreted as a symbol for antisemitism, which I was completely unaware of," she wrote in an accompanying post. "The toy in the picture is a tool often used by autistic people as a way to communicate feelings."
Thunberg, who was arrested at an energy protest in London earlier this week, said she and her activists "are of course against any type of discrimination, and condemn antisemitism in all forms and shapes."
"This is non-negotiable. That is why I deleted the last post," she explained.