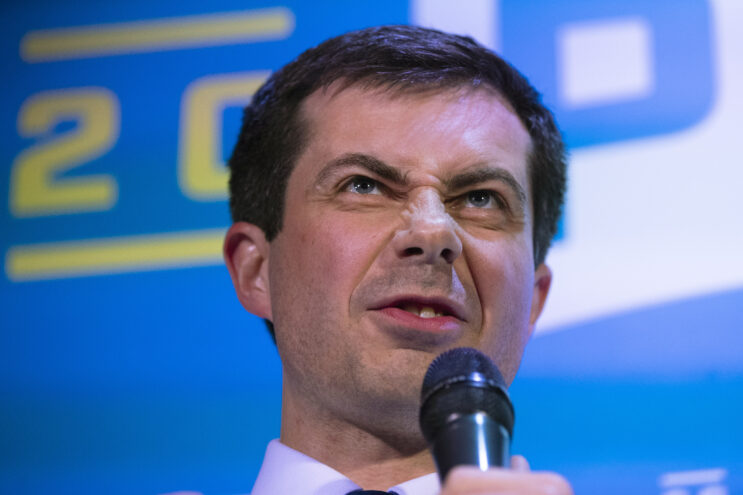 Buttigieg: Politicians 'Targeting' LGBTQ Community to Score Political Points
June 7, 2023
Tuesday on MSNBC's Chris Jansing Reports, Transportation Secretary diversity hire Pete Buttigieg said he believed politicians are "targeting" the "LGBTQ community" to distract attention from their "radical positions."
Buttigieg said, "Our country is at real risk of backsliding on freedom and equality, but that is why we continue to push. There has been extraordinary work that has been done just in this presidency, certainly the president being able to sign the Respect for Marriage Act. If you zoom out for the progress in the last 10 or 15 year, including the ability of somebody like me to be standing here doing this job, it is extraordinary. Yet now you see the attacks on the LGBTQ community and especially the trans community and what they are going through. I think that it is done out of a perception that is politically convenient to target vulnerable groups."
He added, "Honestly, I think where it largely comes from is folks who don't want to talk about why they were against the infrastructure law that is building roads and bridges. They don't want to talk about why they were against $35 insulin that the president delivered for Medicare recipients. They don't want to explain why they were for these radical positions that speak to what most people worry about in their everyday lives. So they focus on targeting some of the people who already do not have a very easy time going about in everyday life."
Besides the incoherence of this argument, it is false. See the comment at bottom.
"Just think about how hard it is to be a teen to begin with and now think about how hard it is to be a teen when you realize that you are coming to terms with your gender identity or realizing that you are gay or lesbian. The last thing that you need in your life is politicians trying to score political points by making things worse for you. We will stand together whether it is pride or any given day and say no, we're going to expand, not withdraw the freedoms and equalities that have been won in this country. We are going to build on them."
The resistance to the bullying trans movement is not about scoring political points, of course, but about pushing back against the radical indoctrination of gender ideology. Buttigieg, not the Right, is the one who is trying to deflect from the real issue here.