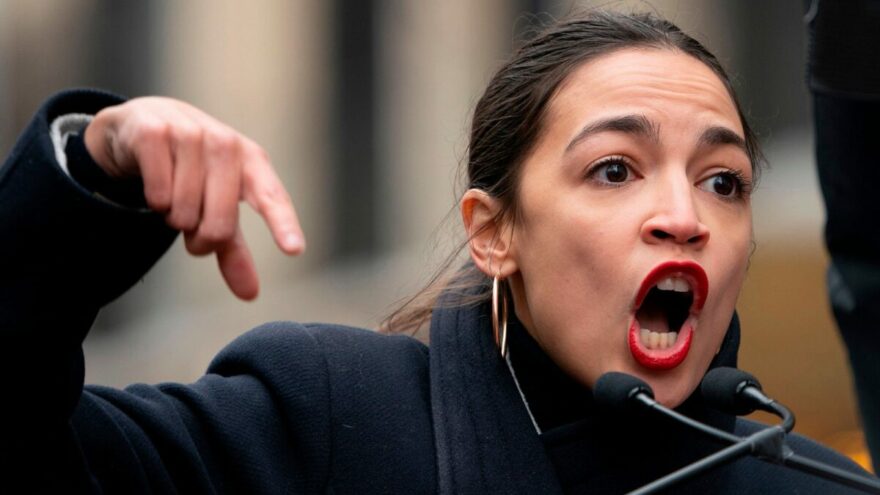 AOC 'Mad' That Dem Leadership is 'Coddling' Manchin's 'Ego'
March 25, 2022
At a town hall in New York on Thursday, socialist Rep. Alexandria Ocasio-Cortez (AOC) went after more centrist  fellow Democrat Sen. Joe Manchin for his refusal to support voting rights reform or the president's Build Back Better package.
"We passed all $40 billion," Ocasio-Cortez said in reference to funding dedicated to the New York City Housing Authority (NYCHA). "We got it. We passed in the House, and he's sitting on it. And our babies are sleeping in bubble jackets in NYCHA with no heat and no boilers because of that. So I'm mad."
Then AOC took slammed leaders of the Democrat Party including President Biden for "coddling" Manchin's "ego."
"If it hasn't worked in two years why are we going to continue doing that when there's an election this November?" she asked.
Manchin stalled the far-left agenda last year after he opposed Biden's $3.5 trillion social spending package. He also voted against the For the People Act because he claimed voting reform had become overly politicized.
"This idea that one person gets to go on television and provide weak arguments as to why they are blocking the basic civil rights of our Americans and journalists don't push back, and our party leadership doesn't push back, and the president doesn't push back forcefully – that makes me mad," a frustrated AOC ranted. "We are stripping one essential function of citizenship because one Democratic senator from West Virginia doesn't think it's important enough. And that's not acceptable."
What's not acceptable is that the economics-challenged, communism enthusiast AOC and her fellow radicals who have steered their Party so far left are pushing an anti-capitalist, anti-American agenda that will end the United States as we know it.