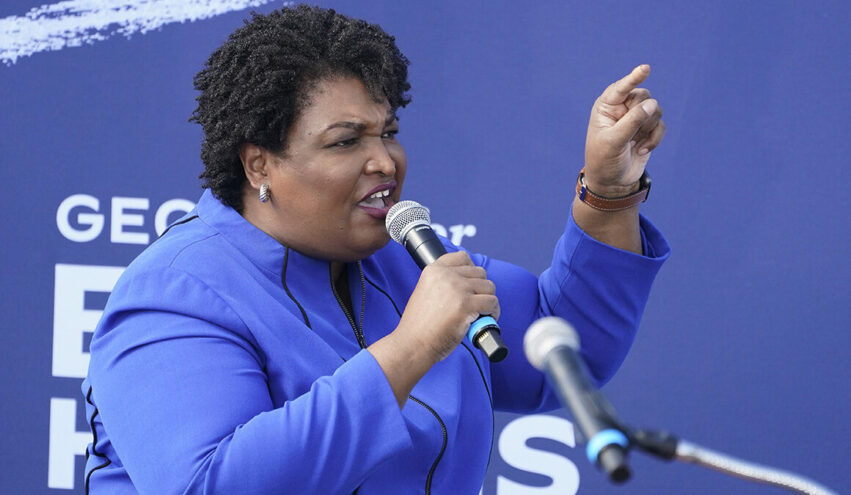 Abrams Required Kids to Mask Up So She Could Go Maskless
February 9, 2022
President-wannabe and voter fraud enthusiast Stacey Abrams, who sparked controversy by appearing maskless among dozens of masked-up children during a recent visit to a Georgia elementary school, did so "on the condition that everyone around her" wore a face covering — including the children, her campaign said.
Over the weekend, a photo surfaced showing the failed Georgia gubernatorial candidate grinning amid dozens of children at Glennwood Elementary School in Decatur. City Schools of Decatur mandate masks for students and employees. Nationwide outrage ensued.
"Her campaign said she wore a mask to the event and only removed it so she could be heard by students watching remotely and for a handful of photos on the condition that everyone around her was wearing face-coverings," the Atlanta Journal-Constitution reported.
Georgia gubernatorial candidate, former Sen. David Perdue (R-GA), slammed Abrams and other Democrats in an "Unmask Our Kids" digital ad, and changing his Twitter header to the now-infamous image of the unmasked Abrams surrounding by masked-up elementary school children. The photo includes the caption, "Unmask Our Kids."
"In so many ways," tweeted former Trump adviser Stephen Miller, "this picture embodies the elitism, arrogance, cruelty, science denial, and glib authoritarianism of Joe Biden's Democrat Party.
He left out "blatant hypocrisy," but otherwise, Miller's message was spot on.