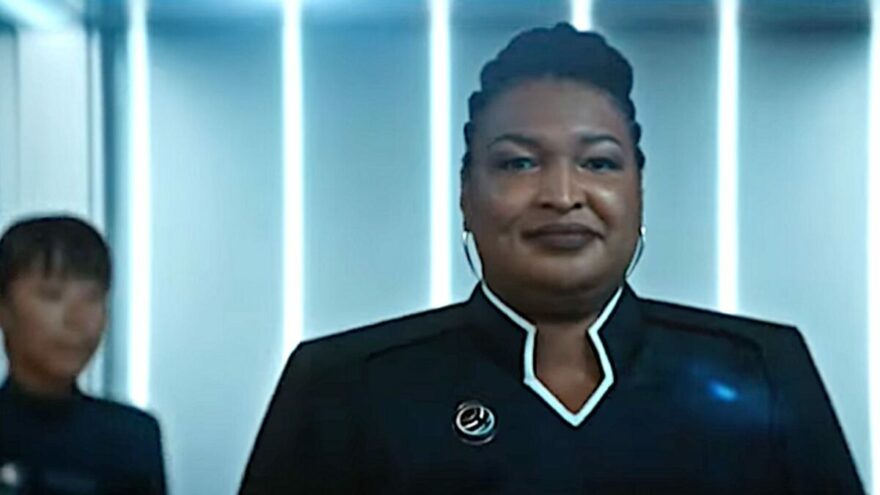 Abrams Guest Stars as Prez of United Earth on 'Star Trek' Show
March 18, 2022
In the season four finale of Star Trek: Discovery on Paramount+, failed gubernatorial candidate and voter fraud enthusiast Stacey Abrams gets to live out her dream in a cameo role as the president of the entire planet Earth.
Abrams appears in the episode's climactic scene as the president of United Earth, the borderless government that rules the entire planet. An open-borders, new world order — just like what her fellow Democrats are working toward right now.
"United Earth is ready right now to rejoin the Federation, and nothing could make me happier than to say those words," Abram's character reportedly says.  "There's a lot of work to do. Are you ready for that?"
In addition to being openly ambitious about sitting in the Oval Office one day, Abrams has also been a longtime Star Trek fan, which partially accounts for why showrunner Michelle Paradise reached out to her.
"We got on Zoom with her, and we pitched her where we were for the season and who this character was and what this character would represent. And asked if she would be a part of this with us. Honestly, I can't think of anyone better to represent the president of Earth in all of that," gushed Paradise in an interview with Indiewire.
Seriously? She can't think of anyone better to be president of the entire planet? Admittedly, our current President and Vice President are such incompetent humiliations that literally anyone else on planet Earth would be a welcome relief. But Abrams can't even win the governor's race in her home state. She's going to have to take voter fraud to a whole new level to become President of Earth.